First Little Readers: Guided Reading Level B (Classroom Set): A Big Collection of Just-Right Leveled Books for Beginning Readers (Paperback)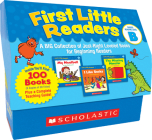 $92.99

Not currently on our shelves. We can usually get for you or ship to you in 1-5 days.
Description
---
Jump start your early reading program with this BIG collection of kid-pleasing little books correlated with Guided Reading Level B. Inside the sturdy storage box, you'll find 100 full-color books (5 x 20 titles) PLUS a great teaching guide packed with lessons, tips, and literacy-boosting reproducibles. A great value and a must-have resource for every preK–2 classroom!
Includes 5 copies of these 20 titles:
1. What Jumps?
2. In My Pocket
3. What Do Monsters Eat?
4. Animal Crackers
5. Farm Twins
6. The Missing Monster
7. My Meatball
8. Growing Up
9. I Wish I Were a Bird
10. Tiny Things
11. Gingerbread Boy
12. What Flies?
13. Bigger
14. I Like Socks
15. Meet My Baby Brother
16. Come Over
17. Party Shapes
18. The Wheels On the Bus
19. Cloud Pictures
20. Ice Cream Scoops
Includes
• 100 full-color, 8-page books (5 copies of 20 titles)
• 32-page teaching guide
• Sturdy storage unit
About the Author
---
Liza Charlesworth is an educational editor and author who specializes in books for primary students. She has written several books for Scholastic Professional Books.