First Little Readers: Guided Reading Level C (Classroom Set): A BIG Collection of Just-Right Leveled Books for Beginning Readers (Paperback)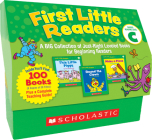 $102.29

Not currently on our shelves. We can usually get for you or ship to you in 1-5 days.
Description
---
Jump start your early reading program with this BIG collection of kid-pleasing little books correlated with Guided Reading Level C. Inside the sturdy storage box, you'll find 100 full-color books (5 x 20 titles) PLUS a great teaching guide packed with lessons, tips, and literacy-boosting reproducibles. A great value and a must-have resource for every preK–2 classroom!
1. The Pie that Jack Made
2. Funny Foods
3. Round the Clown
4. Follow that Cat!
5. Counting Bugs
6. Lunch Crunch
7. Bubble Shapes
8. All About Dinosaurs
9. Make a Pizza
10. This Little Piggy
11. Tail Tale
12. Eight Arms are Great
13. Bat Facts
14. Snow Tracks
15. Lots of Legs
16. Polka-Dot World
17. The Teeny Tiny Man
18. Giant Friends
19. Hot Dog, Hot Dog
20. Squares are Everywhere
Includes
• 100 full-color, 8-page books (5 copies of 20 titles)
• 32-page teaching guide
• Sturdy storage unit
About the Author
---
Liza Charlesworth is an educational editor and author who specializes in books for primary students. She has written several books for Scholastic Professional Books.